The humanities are a family of disciplines that examine fundamental questions about culture and society. Humanities majors at John Jay are part of a community of thinkers and leaders redefining what justice will look like in the 21st century.
Today many employers want employees who can grapple with complicated issues in an interconnected world. The humanities provide these kinds of skills—including critical thinking, complex problem solving, and persuasive communication.
Through the CUNY Justice Academy, you can transition into one of four humanities majors: English, Global History, Philosophy, Humanities and Justice.
English majors at John Jay read, discuss, and write about literature, film, popular culture, and the law. They build skills in critical reading and analysis, verbal argumentation, and persuasive writing. All English majors get a foundation in literary study, and they can choose to specialize in either Literature or Literature and the Law.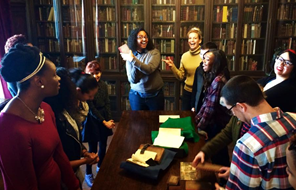 Where it can take you: Graduates from the English B.A. program work in a variety of sectors such as Education, Mental Health Counseling, Media Journalism and Writing, and Fashion and Design. Graduates also pursue a range of graduate degrees, including master's degrees in public administration, secondary education and journalism, or law school.
For example: You intern at an environmental organization, writing policy briefs for lawmakers about the benefits of wind energy and why they should fund its development.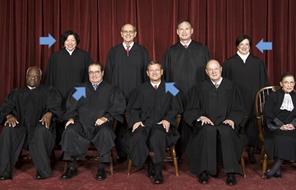 Global History majors gain the knowledge and research skills to think critically about the past, present, and future problems facing diverse peoples and communities. Students obtain a foundation in historical research methods and schools of thought, and then specialize in one of three "chronological tracks" focusing on different eras in world history.
Where it can take you: A history B.A. can prepare you for a range of fields that require communication, evidence-based analysis, and a nuanced understanding of the wider world and its complexities. The Global History major provides an especially strong foundation for careers in education, public service, journalism, and the law.
For example: You conduct research for an immigration policy think tank, examining how U.S. asylum policies have changed over time.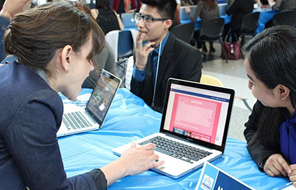 The Humanities and Justice major is coordinated jointly by the English, History, and Philosophy departments, and brings together all three perspectives. Students use an interdisciplinary lens to examine the issues behind public policy and criminal justice debates, and conduct original research in their capstone thesis. Students may also participate in experiential learning opportunities, for example in Pre-Law Boot Camps or credit-bearing internships.
Where it can take you: Students gain intellectual dexterity and writing and research skills, which are useful for jobs as paralegals, in social policy research or public service, as well as in careers outside a "justice" focus, for example in advertising, finance, or educational policy. Many students also go on to graduate school.
For example: You work with an advocacy group to propose new suspension guidelines in public schools, to close the school-to-prison pipeline.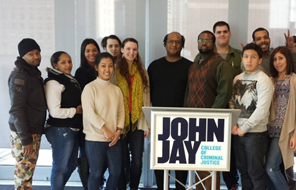 Philosophy majors examine our most fundamental beliefs about truth and reality, right and wrong. Students survey the Western philosophical tradition as well as critiques of that dominant tradition, learning to read texts critically and explore alternate conclusions. A degree in Philosophy equips you to understand the issues behind contemporary legal, political, and public policy debates.
Where it can take you: As a philosophy major, you can pursue careers in many fields such as law and public service. You are also well prepared for graduate education: compared with other degrees, philosophy majors consistently score the highest on the GRE (the entrance exam for graduate schools) and on law school admissions tests.
For example: You draft the mission statement for a restorative justice program, which works to achieve justice for victims without resorting to mass incarceration.